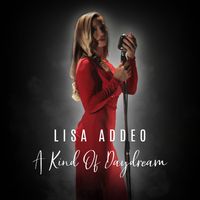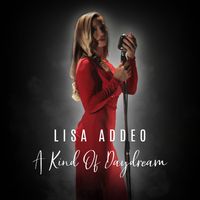 Inspired by the romance of the words and the charming melodies of these love songs from The Great American Songbook, Lisa Addeo swoons with Frank Sinatra's vintage microphone in the same studio where Ol' Blue Eyes himself recorded these timeless classics... Studio A at Capitol Records Tower Building - the hottest ticket in town!

Accompanying herself on Capitol Studios' grand piano and backed on upright by Alex Frank (Dave Damiani, Jeff Goldblum) and Ryan Shaw on Drums (Michael Bublé) Lisa Addeo delivers 12 love songs which have already dropped exclusively to Sirius XM's Siriusly Sinatra. Lisa joins forces with Capitol Records' legendary engineer Steve Genewick to deliver a deliciously smooth collection of timeless standards.

"It was a riveting experience to record the same songs Frank Sinatra recorded in the exact same studio while singing into his vintage microphone", states Addeo. "With legendary engineer Steve Genewick behind the board at Capitol Studios in Hollywood and my talented sidemen, the project took on a delicious and dreamy sound...A Kind Of Daydream.

Lisa Addeo is a Pianist/Vocalist/Composer currently heard in homes across America on Music Choice's Smooth Jazz channel, Sirius XM's Siriusly Sinatra, Watercolors and Holiday Traditions channels. She is comfortable playing and singing many different styles, from Contemporary/Smooth Jazz to Pop and the Great American Songbook.

What Lisa says about the music of the Great American Songbook: "I have been a huge fan of amazing singers like Frank Sinatra and Dean Martin, and these timeless love songs for as long as I can remember. It's a dream come true to be played nationally alongside such giants... particularly in between Nancy and Frank, musical royalty! I adore these sweet melodies and heart stopping lyrics".

Lisa has been described as a 'world-class musician' and her music as 'tenderly intimate, a joy to listen to.' One listener wrote, 'This is music that comes from the heart...with soul.'

All of Lisa's music can be found here and on Spotify, Apple Music, Amazon, Pandora, iHeart radio, her website, YouTube and all major digital retailers.

From intimate supper clubs to Radio City Music Hall and every type of venue across the US and Europe, Lisa's music touches audiences of all sizes. "I adore playing 'live'. As my music fills the room, the audiences fill my heart."

Lisa is an avid golfer and a qualified boat captain. She taught swimming and was a lifeguard as part of her island life. As a young adult, she broke attendance records as Liberace's protégé playing piano alongside him at Radio City Music Hall.
Lyrics
LET'S GET AWAY FROM IT ALL

Let's take a boat to Bermuda
Let's take a plane to Saint Paul
Let's grab a kayak to Quincy or Nyack
Let's get away from it all
Let's take a trip in a trailer
No need to come back at all
Let's take a powder to Boston for chowder
Let's get away from it all
We'll travel 'round from town to town
We'll visit every state
I'll repeat, I love you sweet
In all the forty eight
Let's go again to Niagara
This time we'll peek at the fall
Let's leave our hut, dear
Get out of our rut, dear
Let's get away from it all
We'll travel 'round from town to town
We'll visit every state
And I'll repeat, I love you sweet
In all the forty eight
Let's go again to Niagara
This time we'll dig at the fall
Let's leave our hut, dear
Get out of our rut, dear
Let's get away from it all